Business Transformation Courses
Business Transformation certified courses: Driving Organizational Success in a Dynamic World! In today's rapidly changing business landscape, organizations must continually evolve and transform to stay competitive and seize new opportunities. Business transformation is a strategic imperative that enables companies to adapt, innovate, and thrive in the face of evolving market demands. Explore the key principles, strategies, and tools necessary to drive successful business transformations. Whether you are a business leader, executive, consultant, or aspiring entrepreneur, this course will equip you with the knowledge and skills to lead and navigate complex transformational journeys. such as Understanding Business Transformation; Transformational Leadership; Strategic Planning and Visioning; and more!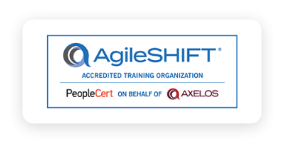 Beginner
---
AgileSHIFT Certification Training Course enables organizations to lead their business transformation and to thrive in an ever-emerging disruptive and competitive marketplace. AgileSHIFT course helps organizations respond positively to increasing customer demands and expectations, competitor pressure, and internal legacy processes.
Check Availability
Testimonials
Customer Testimonials
Our learners are the reason we pursue this noble coaching mission!
We've accompanied our learners all the way during their learning process until they achieved their goal. Every now and then we receive a grateful comment from a previous learner/client praising the professionality of the trainer, course and the material provided during the sessions.
ALHANOUF IBRAHIM ALHAMOUDI