Change Management Courses
Transformation! In today's rapidly evolving business landscape, organizations are constantly faced with the need to adapt and change to stay competitive. Effective change management is a crucial skill for professionals who seek to lead successful transformations and drive sustainable growth. In this course, we will delve into the principles, methodologies, and best practices of change management, providing you with the knowledge and tools necessary to become a certified change management professional. Whether you are an executive, project manager, HR professional, or consultant, this course will equip you with the expertise to lead and support organizational change initiatives effectively.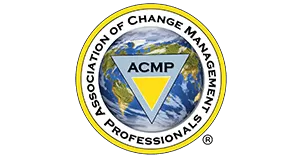 Advanced
---
The certified change management professional – CCMP certification is a global certificate offered by ACMP®, Association of Change Management Professionals. CCMP™ Certification Training helps professionals who tend to lead their organizations in transformation periods. The CCMP course empowers you to understand the methodologies and techniques that pave the way to adapt to change management. CCMP certificate is a bestseller course that tackles change management accreditation according to the ACMP's industry-leading Standard for Change Management©. So, CCMP helps you to adapt your teams to change and handles their change curves.
Check Availability
Testimonials
Customer Testimonials
Our learners are the reason we pursue this noble coaching mission!
We've accompanied our learners all the way during their learning process until they achieved their goal. Every now and then we receive a grateful comment from a previous learner/client praising the professionality of the trainer, course and the material provided during the sessions.
ALHANOUF IBRAHIM ALHAMOUDI