Business Analysis Techniques - Best Tools And Methods Still Valid in 2023
Written By : Bakkah
30 Apr 2023
During the past few years, business analysis has gained significant importance because of innovative advanced tools and techniques.
It has contributed to a qualitative leap in the field of business management, by providing the best results and solutions for various establishments and institutions.
In this article, we will discuss what business analysts do and the newest techniques they use.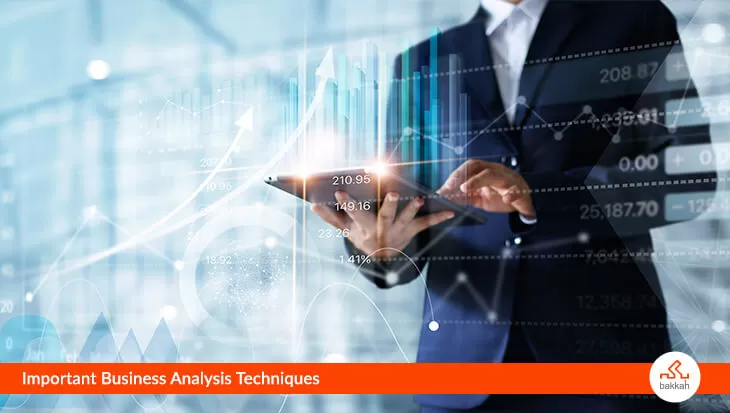 Business Analysis Techniques
Business analysts need some techniques to improve their work. Because of modern technologies, and new techniques appear let us discuss them.
1. SWOT Business Analytics Techniques
SWOT is a business analysis technique that is based on four main points (Strengths, Weaknesses, Opportunities, and Threats), each of which is classified into internal and external factors.
Weaknesses and strengths are internal factors, while threats and opportunities are purely external factors so the analyst resorts to providing integrated answers to each of these four points.
Advantages of SWOT Analysis:
It is suitable for all fields.

It is possible to conduct a comprehensive evaluation.

It contains objectivity.

This analysis helps to establish a huge information base that allows analyzing the past strategy, studying the current situation, and developing a strategy for the future.

The application of the results obtained by conducting a "SWOT" analysis leads to an increase in the company's sales and profits.

It helps to Improve key success factors.
2. Business Process Modeling (BPM)
Business Process Modeling (BPM) is a Business Analytics method based on improving and developing the activities and tasks practiced by individuals in the facility to achieve objectives.
This tool includes strategic planning, business model analysis, process identification, design, and technical analysis for all complex solutions.
3. MOST Business Analytics Techniques
MOST is one of the Business Analytics Techniques that is most powerful tools and frameworks in existence in the context of business analysis; it plays an effective role in drawing plans and policies that will achieve the goals to the fullest and directs the competent authorities to the roles and tasks that must be done to reach the goals.
4. Brainstorming Business Analytics Technique
It is one of the most common methods and practices that business analysts widely use, it is a method that depends on deriving ideas, generating, creating them, and exchanging them among business analysts by establishing reasons and providing solutions to problems accordingly.
5. Non-Functional Requirement Analysis
Non-functional requirements lead to a poorly defined scope of work which creates many challenges at the start of any project.
Undefined scope (undefined goals, shapes, and requirements) leads to an extension of the schedule and an increase in the cost.
The customer may not have the time and money to invest, so he may accept a low-quality product.
Usually, a customer has needs and wants. After seeing the cost estimate they may ask to reduce the scope and workload.
Usually removing some non-functional requirements reduces the scope. Too many non-functional requirements can quickly increase the cost, while insufficient non-functional requirements can lead to poor user experience.
6. PESTEL Business Analytics Technique
An analysis tool is used to identify the overall external forces affecting the organization, and external factors that may change in the future, to exploit these changes as opportunities, or to find solutions to potential threats better than competitors.
The importance of PESTEL analysis is that it is considered a valuable tool for making major investment decisions, as investment agencies are usually interested in looking at the PESTEL analysis of the country and sector in which they wish to invest, before deciding.
PESTEL is an abbreviation of:
P: Political

E: Economic

S: Social

T: Technological

L: Legal

E: Environmental
7. CATWOE Business Analytics Technique
One of the methods a business analyst uses to determine what a company is trying to achieve, What are the problem areas and how do stakeholders' views affect people with that problem.
CATWOE is an abbreviation of:
C: Customer.

A: Actor.

T: Transformation.

W: Weltanschauung.

O: Owner.

E: Environmental constraints.
8. User Stories as One of the Business Analysis Methods
They are short descriptions of functions that are told from the user's point of view. The focus is on why and how the user interacts with the program.
A user story is a high-level definition of what a program should be able to do.
Typically, any feedback or request that comes from the company or the end-user can be written as a user story. a good user story is written in simple language and talks about the cause and expected benefits of a particular feature of the software
9. Requirement Analysis
If the user has the desire to develop or change his work system for the better, he must accurately identify the symptoms of the problems he faces as an essential step toward determining his needs for change.
each of the users or the owner of the system and the systems analyst cooperate to determine the problem to be solved before thinking about any solution.
Identifying the drivers for this change may help in determining the appropriate way to deal with system problems and choosing an analysis methodology.
These motives can come from within the work system itself or from the environment with which it interacts
10. Use Case
A description of the steps or actions between the user and the software system that lead the user to something useful. The user or actor can be a person or something more abstract such as an external programming system or a manual process.
Use cases are a modeling language technology that helps software developers define features to implement and safely resolve errors.
In systems engineering, use cases are used at a higher level than software engineering which often represents the tasks or objectives of stakeholders. Detailed requirements may be accomplished in required SysML diagrams or similar.
What are the Responsibilities of Business Analysts
The business analyst uses the results of data analysis to make strategic business decisions. For business analysts, data is a means to an end.
The business analyst is most concerned with the business implications of relying on data and procedures. Business analysts will benefit from the work of data analysis teams to produce an answer to this question.
In general, business analysts work more collaboratively than data analysts with multiple departments and teams.
A business analyst is there to determine exactly what a business needs, what problems it is facing, and how to improve its operations to increase efficiency and improve its product line.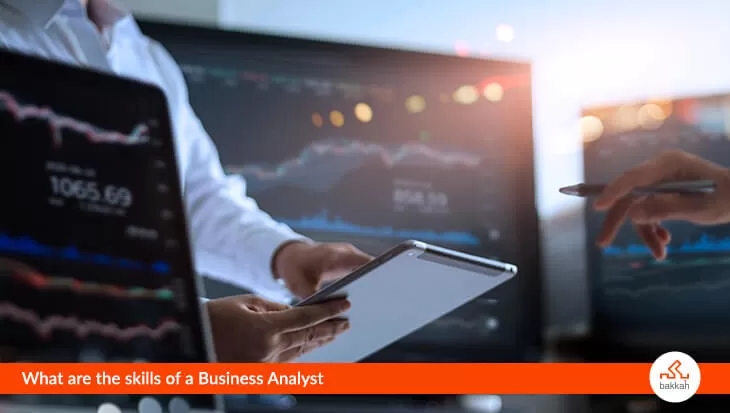 What are the skills of a Business Analyst?
The business analyst must have the following skills:
Experience with agile practices

Experience with Excel, including pivots and graphs

Experience in core commercial interests

SQL experience

Quantitative mindset and analysis capabilities

Practical experience with Lean, Agile, or Six Sigma methodologies

Preferably work through Sigma methodologies

Experience working with digital advertising and/or broadcast technologies

Communication/presentation skills, both written and verbal

Experience with Word, MS Project, and PowerPoint.
What are the courses required to be a Business Analyst?
The best Business Analysis courses to become a business analyst are: