Types Of PMO - All Types of Project Management Offices - PMI standards
Written By : Bakkah
1 Mar 2023
Do all Project Management Offices (PMOs) follow the same technique?
There are many classifications of PMOs that vary in how much they control and influence projects within the institution, its role also changes from providing support to direct administration of the projects. The best choice for your institution depends on the size and nature of the work as well as the existing culture.
Types of Project Management Offices: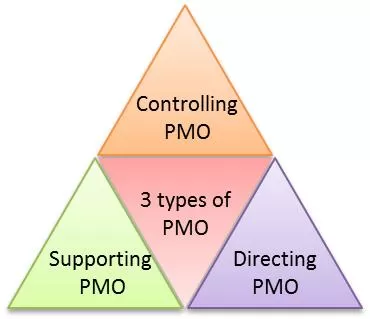 There are many types for Project Management offices; in this article, we discuss the most 3 recognized and agreed-on types by researchers and Project experts are:
1. Supportive PMO
Supportive PMO is a Low control office with very limited power. Supportive PMO provides support as consultations are available upon request. It also provides forms, information, technical support, and training to the project team without imposing control on their project or activities.
The Supportive PMO type of office fits institutions that are known for their successful projects and are only in need of some sort of data center. It's also characterized by its low level of control on projects and teams, in addition to following unified standards in all projects.
2. Controlling PMO
A controlling PMO is a Moderate control project management office with a reasonable set of power. Controlling PMO type of office provides a unified framework for the institution, which requires adjustments and modifications on the used methodologies, as well as forms and applications.
Also, Controlling PMO imposes a moderate level of control on projects and their activities. This form is used within institutions that are interested in having some control over their activities, processes, and procedures.
3. Directive PMO
Directive PMO is a High control PMO. This type is known for its high control of projects, or even full managing projects with providing needed resources and support. The office defines managers to run it directly after contacting the PMO project.
The Directive PMO type also provides high professionalism in managing projects, where every manager has to write periodic reports for the office which guarantees a high level of consistency in work on the projects level.
Directive PMO fits big institutions that need technical support in many and various places.
4.

Other classifications for PMOs types
The Project Management Institute (PMI) classifies PMOs into five different types:
1- Departmental: Supports specific business units or divisions.
2- Project-specific: Oversees the success of a particular project.
3- Strategic: Oversees a major organizational change.
4- Project support: Handles administrative tasks to speed up project completion.
5- Center of Excellence: Handles training and developing project managers.
From an organizational point of view, PMOs can be classified into one of the following types:
1- Enterprise PMO.
2- Organizational (departmental) PMO.
3- Special- purpose PMO.
Why it is important to have Project Management Offices?
Every one of us feels very excited to work on his first project, but when he gets assigned to tasks from other projects then he will get bored and will not be interested in handling any further tasks. When there are 2 or 3 projects within the institution then things will be under control.
But with the expansion of institutions and having many projects running at the same time the management will divide the tasks based on priority, and usually.
This tactic ends up failing because setting priority is not an easy thing to do, also having many small projects which consume around 40% of the institution's resources which are allocated to other projects. PMO is responsible for all these challenges and finding a way to solve them.
Best PMO Courses And Certifications:
Bakkah provides the best professional certified Project Management Courses according to several categories:
Risk management Courses And Certifications:
PRINCE2 Courses
Courses for Project Management Tools:
Portfolio Management Courses
Bakkah team for training and consulting