P30 Projects management offices based on P3O®
Written By : Bakkah
2 May 2023
There is more than one methodology to manage projects like PMP® which is forked from PMI and PRINCE2® methodology. At the same thing, PMOs have more than a classification. In previous articles, we spoke about PMOs sorted by the American-based PMI, and in this article, we're talking about another PMO classification that is based on P3O® that it has British origin.
What is P3O®?
P3 is a shortcut for the 3Ps '' Portfolio, Program, and Project'', so P3O® means projects offices portfolios, and programs offices P3O® is a mutual effort result between PRINCE2®, MSP®, and M_o_R, and it was launched in 2008, containing a lot of principles, processes, and techniques that effectively facilitate the process of P3O® inside the facility.
Projects management offices based on P3O®
1- Organization portfolio office model
This prototype is interested in providing strategic support (long time support), planning, and training for the facility's projects and programs due to setting up jury projects management offices if necessary.
2- Hub and spokesmodel
It's a prototype for communicating, not just for regulation; it was used for communications and aviation in the fifties of the last century, and it is also known as the Star prototype where to be when the Hub is at the center.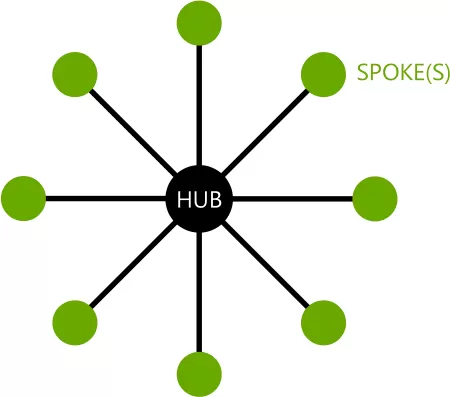 This sample is used at the world wiled facilities, and the Hub is the main projects management office and the Spokes is a branched one that is geographically dispersed. This model features centralization.
3- Temporary office model
In this model, there are no stable project management offices, it's only set up if necessary and finish when the project is finished.
4- Virtual office model
There is no physical projects management office in this model; it's just P3O® names duties and activities to make the facility's other departments to do the projects management office thing.
5- Small organization model
It's a too-small office and sometimes it is about one person to follow up and do limited activities like training and the project's plan.
How I can set the suitable P3O® for my facility?
There are too many factors that affect choosing the suitable prototype for your facilities like how big it is, the organizational structure, sourcing distribution policy, and other things that help you to design and choose your perfect PMO for your facility and then you will be able to determine:
- The suitable prototype from P3O®.
- How to separate an office you should have.
- What are the duties and services the office should provide?
- Where is it should be located in the organization.
How I can train on the P3O® methodology?
You can join P3O® Foundation and Practitioner course at one of the certified centers like Bakkah for training and consulting, the course is about two levels: beginner and advanced, it is about 45 hours of training, and the participant will be able to recognize the basics and samples of P3O® to manage PMOs and then apply it perfectly on the ground, not to mention that he will have an international certificate that would lead him to a higher position and a higher salary.
Portfolio Management courses:
Bakkah team for training!
Register in one of the P3O® courses organized by Bakkah