What is Change Management ? Plan Template, Process, and Framework
Written By : Bakkah
23 Jan 2023
A non-stop evolving business requires organizations to implement enterprise-wide changes. Today, businesses face constant change. Change refers to any action implemented to introduce a new element into the normal course of business.
The process can be challenging, and people are often resistant to change. However, to develop an agile workplace culture, organizations need a systematic approach.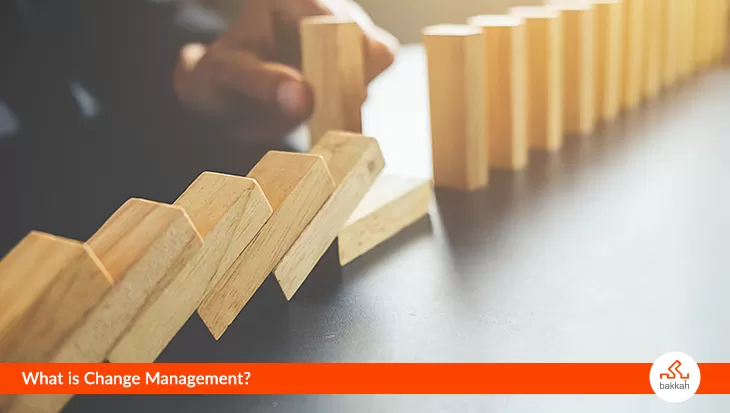 What is Change Management?
Change management is a branch of organizational development used to align an organization with new circumstances and opportunities as they arise. Change Management deals with changes in external conditions and the business environment and involves defining and adopting corporate strategies, structures, procedures, and technologies to handle changes in the company's environment.
In the realm of change management, strategies must take into consideration how an adjustment or replacement to a process, system, or person within an organization will impact all other processes and systems.
Change Management needs to be planned, tested, communicated, scheduled, implemented, documented, and evaluated. In addition to maintaining an audit trail if a rollback is needed, documentation is critical as well for ensuring compliance with internal and external controls, including regulatory requirements.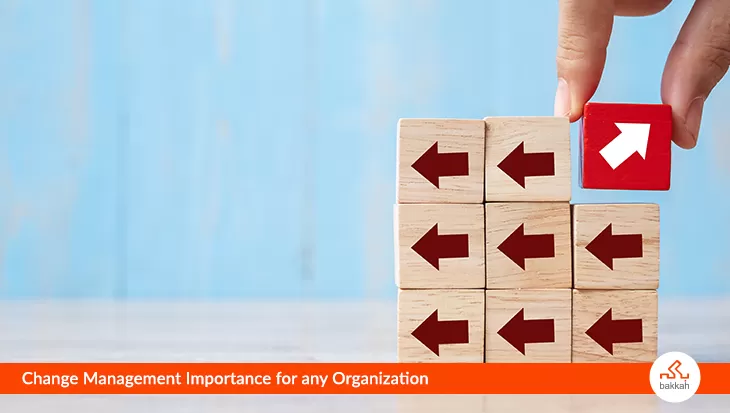 Change Management Importance for any Organization
As your company undergoes both minor and major changes, the role of change management seems to play a key role at every level to help you manage and succeed.
It is crucial for change management to ensure that your employees are fully aware of their new responsibilities as changes are introduced into the workplace. Their efficiency and clarity are enhanced by this act.
Thus, a well-managed change program also allows your business to flourish by adapting to the current market trends and growing accordingly.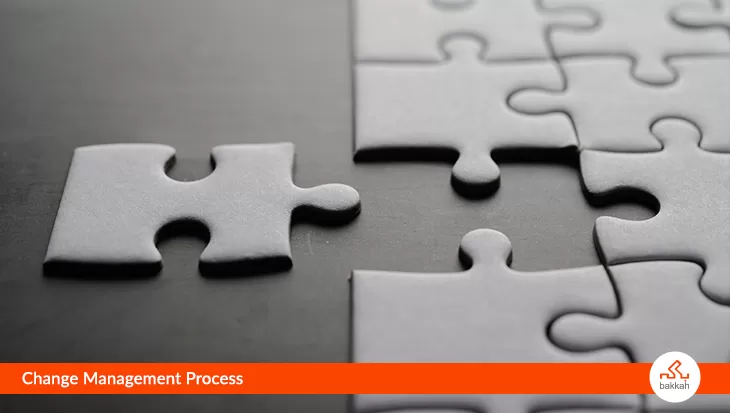 What is the best Change Management Process
To implement a change management process effectively, a company must follow a set of procedures. If you want to change your company, you must first consider how the changes will affect the people working for you and the customers who depend on your organization.
The following steps should help you keep your change program headed in the right direction while also remaining considerate of your employees.
Check the five steps below of all Change Management process Aspects:
1. The initial stage
revolves around developing both a plan and a timeline.
A plan for implementing the change.

A timeline for the change will be created, and each task will be assigned to a responsible individual
2. The preparation stage
involves preparing employees for change. During the communication process, the change management team will explain the reasons for the change and what to expect from it.
As part of the training, employees will learn how to use the new system or process.
3. The implementation stage
the changes will be put into practice. Employees will be given the opportunity to participate in the change management process and to make sure that the change is implemented properly.
4. The Monitoring stage
This is about ensuring that the change is proceeding according to plan, the change will also be adjusted if necessary.
5. The evaluation stage
leads the change management team to evaluate what went well during the implementation and whether the change process was successful.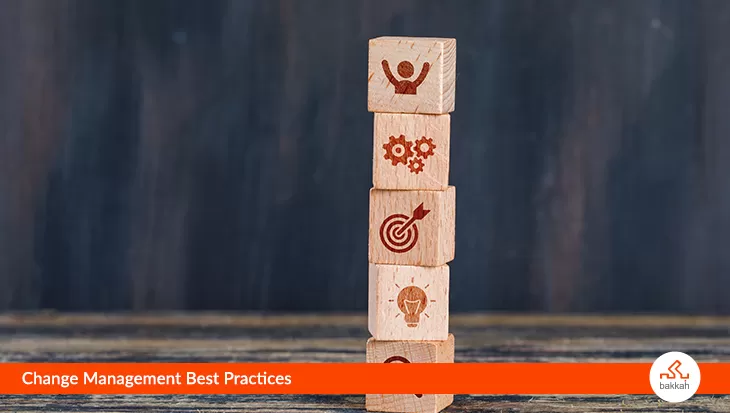 Best Change Management Framework
The following Industry-Proven 7 Best Practices based on the best Change Management framework that can help you get started with your change initiatives:
1. Put A Strategic Vision:
Every change management initiative should have clearly defined goals.

While SMART goals are not easy to define for change management, companies should strive toward setting up as clear goals as possible based on technics like the

SWOT analysis

model.
2. Put A Planning Vision:
When you're planning change management initiatives, consider the culture and risk tolerance of your organization.

Do this by talking to people across different functions—such as risk management or compliance—to understand what types of risks the organization faces.
You should also check with your company's legal department to get a sense of any regulatory requirements you must adhere to when making changes.
3. Put A Risk Assessment Phase:
Use data-driven risk assessment to continually adapt your change management practices.

Tracking metrics can help you identify the types of changes, team members, and services that are least likely to be involved in an incident.

This information can be used to match the rigor of your change practices to the appropriate level of risk.
4. Put An Open Communication Phase:
Engage in frequent, open communication: using every communication channel is essential to deliver your message to employees but listening to their concerns is also important.

Your vision must be communicated through all possible means to convince people to become willing supporters.

Accept honest feedback from employees, especially from those who will be directly affected by the changes.
5. Put An Empowering Phase:
Empower your employees in the change process by giving them the freedom to:
Make their own decisions

Implement new ideas

Engage in the process.
6. Give A Mutual Feedback:
Employees should be encouraged to share their knowledge with others.

They will learn more about new systems and adapt quickly to changes in the workplace.
7. Design A Documentation Phase:
Good change management requires important documents and information to be easily accessible to employees.

This can be achieved by maintaining a central repository for all documents, where anyone can find what they are looking for without difficulty.
Change Management Plan Template in MS Word
Here is a Change Management Plan Template in MS Word that you can download and edit easily to present your Brand Identity and Team.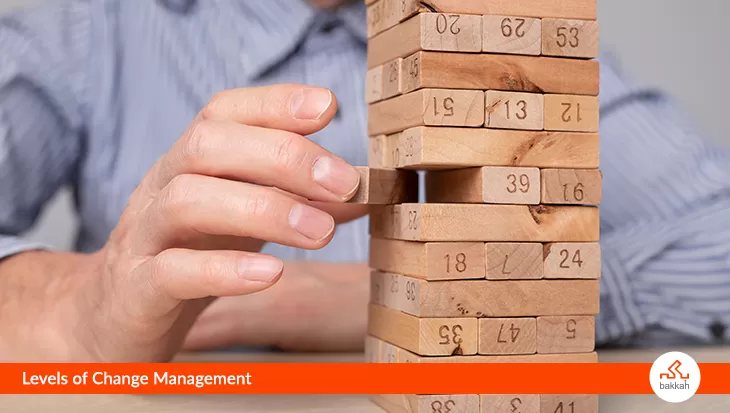 What Are the Levels of Change Management?
The field of change management has been divided into three distinct categories. To better implement change management within your organization, it is important to understand these categories and their individual roles as shown below:
Individual Change Management
Individual change management requires an understanding of how to motivate individuals to change and how this can be incorporated into day-to-day business operations. And it involves providing support and guidance to employees as they transition into a new role.
Organizational Change Management
Organizational change management is a process for ensuring that change—whether the result of an organizational initiative or part of a broader business environment shift—is implemented smoothly, successfully, and completely.
To ensure that the solution is incorporated in a lasting way within the organizational change management, it may be used to identify the teams that will be directly affected by the change.
This may include making the team aware of the change and then training them on the proper way to implement it.
Enterprise Change Management
Enterprise change management is a combination of organizational expertise, business acumen, and technical know-how that allows an organization to adapt to external forces.
An enterprise change program affects all levels of the organization, including its leadership, projects, procedures, roles and responsibilities, processes and systems, and organizational structure.
It is important for those who are planning an enterprise change program to ensure that all levels of the organization are on board with the changes to be implemented.
Best Change Management Certification
The best change management certification is the CCMP Certification check it now!
To sum up, change can be difficult sometimes for people. Thus, it's important to think about how to make the change campaign as effective as possible. One aspect of your approach should be choosing the right time, the right implementation path, and the right tone.
Ask yourself as a changemaker, is the tone I use loud and demanding or soft and steady? Is that tone consistent with the type of culture that you have? And What are the risks associated with doing it differently?