Digital Transformation In Project Management And Business
Written By : Bakkah
7 May 2023
Many businesses realize that digital transformation is the winning card for a fast-growing company with multiplied revenue. But to properly discuss this point, we need to define business digital transformation and answer the buzzing question of why it is the new trendy topic for most companies.
Digital experts and decision-makers can agree on adopting more flexible systems that narrow the gap between physical locations and virtual offices. The new business need in the post-COVID era reshapes the market and coined new terms like digitization.
Project Management Before Digitization
Who does not recall the times of the long face-to-face meetings and wasting hours in office cheat chats, not to mention the wasted efforts of manual task executions? Everyone, right?
Thus, there is no place for slow-paced environments in the new business harness as the COVID crisis disrupted the business workflow and imposed a new fast-paced roadmap.
Therefore, C-Suite practitioners and executives touch upon the necessity of pivoting on the new digital transformation tools to accelerate the performance of their teams and create more cohesive communication among departments. No more recurring back-and-forth debates on the plans and targets and no more out-of-the-scope budgets.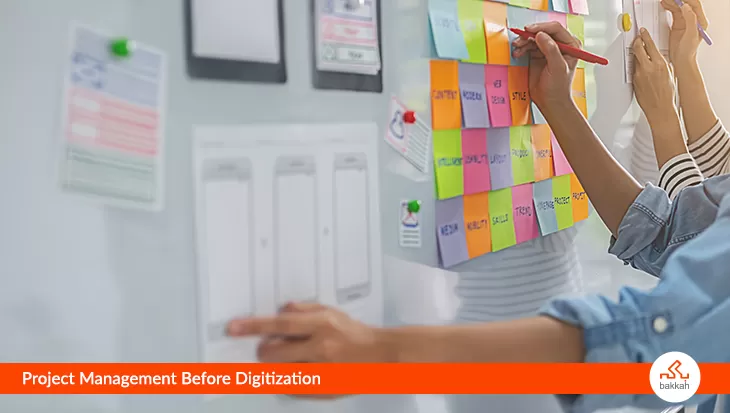 Questions Before We Start
But before stepping up to the in-depth digitization guide, we need to raise some alerting questions. Why is it crucial to digitize organizations? And to what extent the digital transformation strategy can be effective? And why does the digital transformation strategy become so buzzing and significant in shaping the future of project management?
The Importance of Digital Transformation for Organizations
Regardless of the business environment, digitization has proven a breakthrough in every aspect. Many scopes have benefited from the digitalized tools, cloud-based and work automated platforms. Construction, healthcare, engineering, and project management are a few examples of the fields – and the list is long- that utilize digital transformation to drive more revenue and maintain effective processes.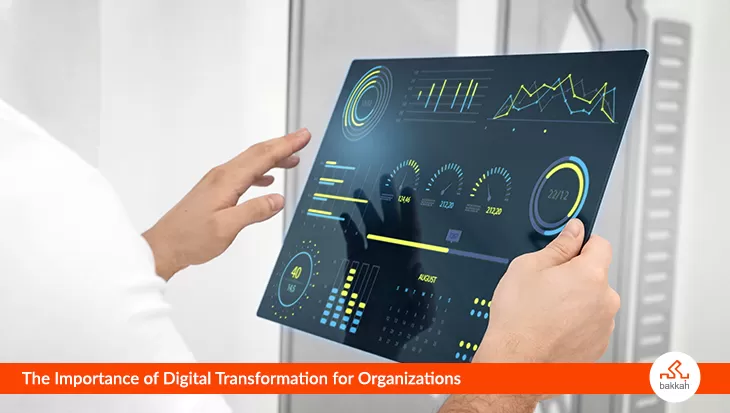 Digital Transformation Benefits for Project Management
Digital transformation impact is not as easy as it seems. In practice, knowing which digitized tool is the best to embrace within your workplace takes a thorough look. Thus, understanding the digital transformation framework is crucial for executives and project managers as an initial step.
Because applying a well-planned digital transformation strategy determines key indicators like project deliverables, boosts team performance, and achieves customer satisfaction.
Cost-efficiency
Enterprises leverage new technologies that reduce costs, eliminate wasted resources, and increase profitability. Management systems barely implement typical market-driven operations because it's costly and sometimes unmeasurable.
With digitalized tools, companies can reduce costs while keeping productivity high rates. The new tools that support data-driven operations have a notable impact on customer satisfaction as well.
Data Enhancement
A relatable benefit that follows the cost efficiency is the data collection. Thus, getting the right data in the right place saves you tons of wrong decisions. In other words, the right data assists PMs in their strategic decisions.
Therefore, project managers should consider choosing the right tools to reap the fruits at the end of projects.
The IDG CIO, Deb Gildersleeve stated in a whitepaper tackling a recent MarketPulse poll conducted by IDG "There's a big disconnect between having the right tools in place and making [business-led development] a companywide effort," Gildersleeve explains. "In many cases, companies still think of development as IT-led.
At the same time, there's a disconnect between perceived progress being made on the business-led customization and automation front and the reality of what's happening in the field.
To that point, the IDG survey found that 67% of IT and LOB [Line of Business] respondents believe business professionals are fully empowered to build their solutions and that the business-led customization and automation revolution is well underway."
So, never overlook the suitable tool that goes in harmony with your business workplace.
Measurable Results
Thanks to the digital transformation impact of DT services and tools, executives and project managers in various sectors can better focus on project outcomes and accurately measure deliverables.
The whole digital transformation roadmap reshapes the future of project management at every level, from setting the right strategy, and optimizing the handy tools, to setting goals and measuring project results.
Hence, this automation mindset allows project managers to free up more time to focus on strategic planning while tracking and driving results, as stated in How digital transformation is changing project management by Techradar.pro.
AI for Minimized Risks
The digital revolution showcases how crucial is the impact of exponential scaling on every organization. One of the impactful roles that the digital transformation framework plays in project management is minimizing risks and maintaining a holistic view with real-time data analysis that's important for every business. External factors and risk elements are no more intimidating for project managers with digitized tools because they can keep an eye on data-driven results.
Thanks to real-time data and artificial intelligence digital transformation impact, PMs can eliminate the blurry vision of expected risks, and visualize dashboards and KPIs to take the right actions before actual disruptions in their projects.
According to the Real-Time Data & Analytics - The Complete Guide (confluent.io) by CONFLUENT, "Business intelligence can enable banks to customize their risk models and make quicker decisions about loans.
Customer Relationship Management systems can join machine learning capabilities with customer data to build decision-making engines and content management systems that improve the profitability of each customer."
Thus, there are surging demands for digital solutions that fortify decision-makers to eliminate risks in the project management spectrum.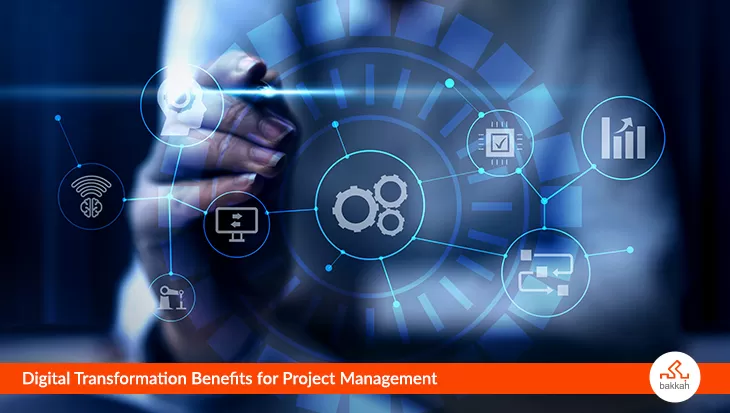 Conclusion
Digital transformation is changing the shape of the business on every level, especially at the level of project management. Hence, the digital transformation impact results in a huge revolutionary change in all the departments within the same organization, not only the IT-led ones.
The future of project management has no more blurry visions, thanks to digitization and automated tools taking place in the business world. Hence, they maximize productivity, minimize risks, monitor processes, and deploy data-driven analytics to achieve business targets.
As a result, executives, business innovators, and project managers should not overlook the power of the digital transformation strategy to keep pivotal results in the current fast-paced market.