Saudi Women Empowerment in Project Management - Free Course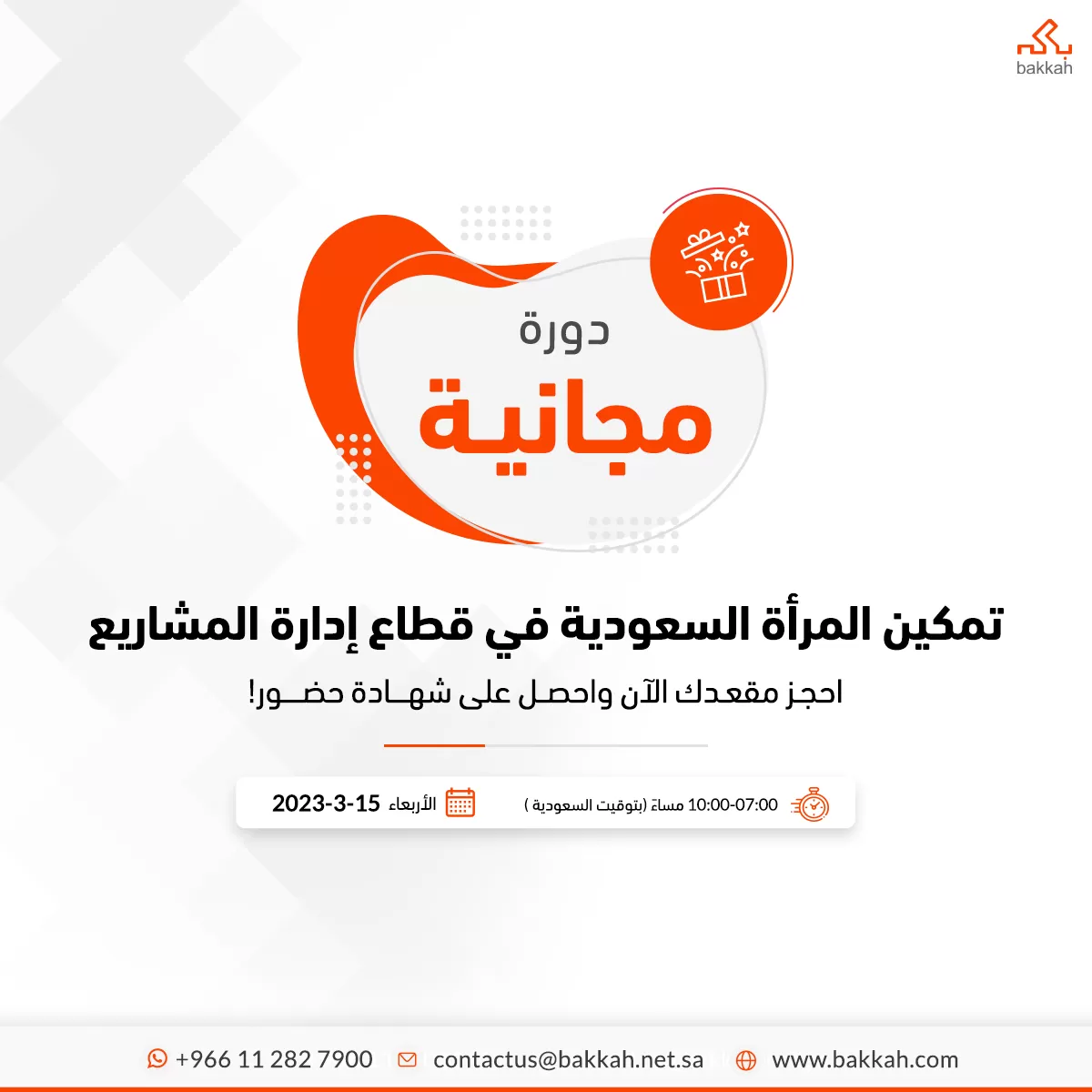 15Mar2023
Start Time
Mar 15, 2023 | 7:00 PM
End Time
Mar 15, 2023 | 10:00 PM
The project management field is one rich spectrum that welcomes both genders to work and grow professionally. Of course, you can never succeed in achieving the objectives unless everything was mapped out accurately and managed carefully. That's why lead organizations tend to hire top-notch project managers, with certifications and enough knowledge to implement the latest methodologies.
Women and Project Management
It has been reported by the PMI that male PMs are two to three times more numerous than female PMs. 70% of the organization's membership is composed of men and 30% of the organization is composed of women.
However, as part of Saudi Arabia's Vision 2030 development strategy, Saudi women are expected to play a key role. Recently, the Kingdom enacted new reforms to improve its record of women empowerment and gender equality, which has increased the number of Saudi women holding managerial positions.
Lead organizations started planning to empower and train women in this field by many ways, such as free female project management courses.
What is Project Management?
In project management, methods, processes, skills, experience, and knowledge are applied to ensure that projects are completed within agreed parameters and in accordance with project acceptance criteria.
The History Of Project Management
Throughout history, project management has gone through four stages. In summary, the first stage includes all human history prior to 1958, with the second stage including all human history after 1958. Around that time, 'project manager' became part of our lexicon as it is today.
The 1980s saw a change in project managers' attitudes toward managing project risks. Waterfall methods were commonly used at that point and focused on solving problems in real-time. "Third Stage". Project management is as much a product of the Internet as anything else in the modern age. Work is now organized and performed in a more efficient manner thanks to the accessibility and connectivity it allows. "Stage Four"
What are the skills needed to be a successful project manager?
It takes more than task management skills, timing, and technical knowledge to become a successful project manager. Among the most critical project management skills - the ones that make your team feel valued, motivated, and trustworthy - are soft skills. To name a few, communication, scheduling, negotiation, leadership, critical thinking, team management, risk management, etc.
Free project management courses for women in Saudi Arabia:
Saudi Females Empowerment in Project Management
We invite all interested professional fellas to make it to our upcoming free course, where we discuss a variety of critical points with an expert in the field. Get prepared to exchange knowledge and hear all about the following:
Introduction to Project Management & Women's Participation in it
We talk in this section about the origins of the Project Management profession, the role females play in this field, and what are the significant obstacles, and if they get any training or free project management courses for women.
Steps Towards Mastering Project Management
Where the expert talks about the importance of obtaining international certification in the field and pursuing reading books about the tricks and secrets to becoming a professional project manager. You'll be introduced to some finest certifications in the PM field, ones even funded by Human Resources Development Fund (HRDF). We also emphasize on the importance of holding free women's project management courses.
Projects Management Fundamentals
This one section is rich and stuffed with basics and key elements to prepare for launching a successful career in project management. The expert will discuss different methodologies used to create a plan, establish an effective team, mitigate risks and manage them, and all other responsibilities handled by project management.
Book your seat now and start planning for a remarkable professional journey as a project manager!
Related Articles