Your Ultimate Guide to CIPD Certifications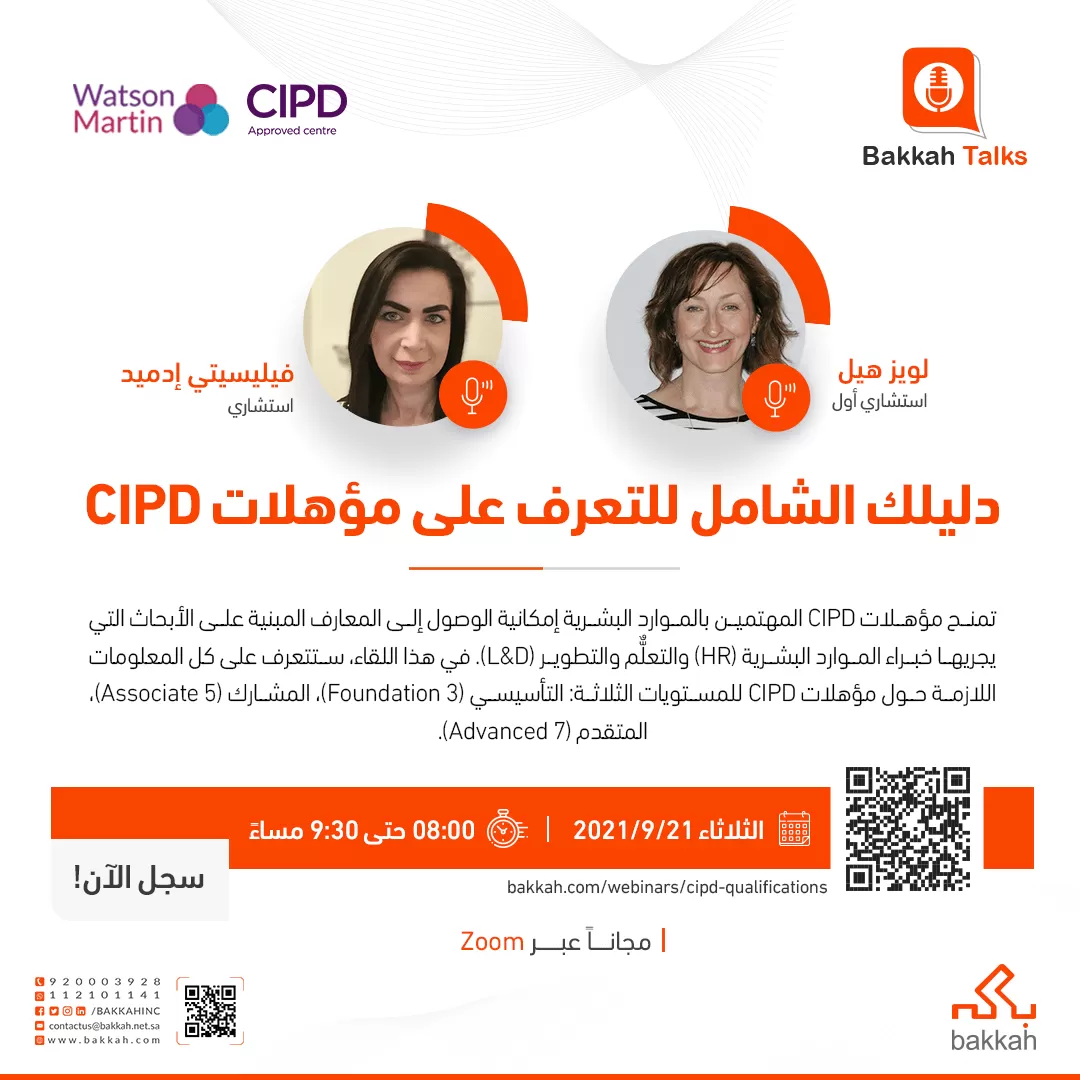 21Sep2021
Start Time
Sep 21, 2021 | 8:00 PM
End Time
Sep 21, 2021 | 9:30 PM
CIPD certifications are the most famous in the HR certification world and believe us, it is worth every penny! Learn about CIPD courses that are the most popular among professional HR courses.
Chartered Institute of Personnel and Development certifications (CIPD) provide you with courses in People practice, an associate Diploma in People Management, and an associate Diploma in Organizational Learning and Development, which help you stand out and acquainted with the most updated knowledge in the HR field.
Each CIPD certification consists of three levels arranged as follows:
Level 1 Foundation:
In this level trainees of CIPD courses are being introduced to the basic skills of talent management, recruitment and people and reward,
Level 2 Associate:
Moving forward, trainees are rewarded with a deeper understanding of the professional behaviors that lead to organizational success.
Topics such as Relationship Management, Talent Fostering, and strategic planning guidance are discussed through sessions.
Level 3 Advanced:
In this more advanced CIPD certifications level, you will gain the skills to develop and deploy your strategic and specialist people management knowledge.
Why CIPD certifications
Recent statistics have shown that CIPD certifications holders' salaries are 25,000£, which is more than what other colleagues who didn't get the certification get, and the rise is estimated by 10,000£! Which makes it the most important professional HR certification.
Why Chartered Institute of Personnel & Development CIPD
This hub is one of the world's oldest HR institutions, being founded in 1913. They have over 135,000 members distributed around the globe. CIPD courses are the most reliable and most reliable HR courses.
Also, you will have to put so much work into passing the exam and grasping all the knowledge provided through sessions, and employers will immediately know that once they see the CIPD badge in your cv.
Bakkah allows you to choose the CIPD certifications level which suits you best and provides you with a competent trainer, thorough material, and fun session to score high and start your career in the Human resources field with steady and confident steps.